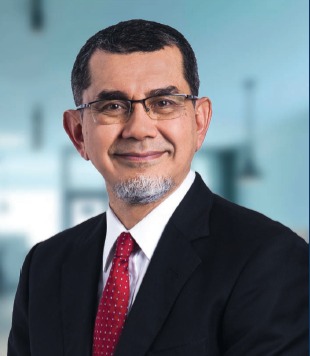 Tan Sri Dato' Sri Haji Syed Zainal Abidin Syed Mohamad Tahir
Executive Chairman of SilTerra
Tan Sri Dato' Sri Haji Syed Zainal Abidin Syed Mohamed Tahir is Group Managing Director for Dagang NeXchange Berhad and its group of companies with effect from 1 October 2020. He was previously appointed as an Independent Non-Executive Director of Dagang NeXchange Berhad on 1 July 2020.
He previously held the position of Vice President, Downstream Marketing, Petroliam Nasional Berhad ("Petronas") and also served as Managing Director of Petronas Dagangan Berhad. He
began his career as a Project Engineer with Petronas Gas Sdn Bhd in 1987, before joining Petronas in 1992 as Senior Executive of the company's Corporate Planning & International Business Development unit.
He then left to join HICOM Holdings Berhad in 1995, where he assumed various senior positions in the company. He lent his expertise to PERODUA when he was appointed Senior General Manager in 1999. Subsequently, he was appointed Executive Director of PERODUA Auto Corporation Sdn Bhd in 2002, and later promoted to Deputy Managing Director of PERODUA in October 2005. Thereafter, he also held various key positions in established corporations including Proton Holdings Berhad as Group Managing Director, RHB Bank Berhad and RHB Islamic Bank Berhad as Independent Non-Executive Director. In July 2018, he was appointed as Chairman of the Board of Universiti Teknologi MARA until January 2021.
He is currently Chairman of SilTerra Malaysia Sdn Bhd, Chairman of Innovation Associates Consulting Sdn Bhd and Director of OGPC Sdn Bhd. He is also presently Chairman of Pan Asian
E-Commerce Alliance, the first regional e-Commerce alliance in Asia that aims to promote and provide secure and value-adding IT infrastructure and facilities for efficient global trade and logistics.
He holds a Bachelor of Science in Civil Engineering from the University of Maryland, United States of America.
---