News / Updates
Global Semiconductor Shockwave
28 Jun 2021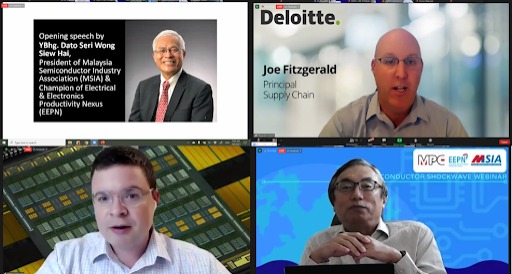 The Global Semiconductor Shockwave Webinar was held on 28 June 2021. It was organised by the Malaysia Semiconductor Industry Association (MSIA) in collaboration with E&E Productivity Nexus (EEPN) (which was established under the Malaysia Productivity Corporation).

The featured speaker was Joseph Fitzgerald, Principal, Technology & Semiconductor, Supply Chain and Partner of Delloite, USA. Joseph shared that the increasing demand for digitalization has led to the global chip shortage. Supply chain disruption was also cited as the top issue by the industry players. Better demand forecasting and better supply planning would help but the chip shortage could last until 2023.

Jimmy Goodrich Vice President of Global Policy at Semiconductor Industry Association, USA (one of the panelists) commented that US- China trade tensions, Covid-19 impacting resiliency of semiconductor supply chain and the global semiconductor shortage has given increased focus and attention to the industry and semiconductor is at the top of many country's agenda.

Dato' YJ Lim, ex-Regional President of Plexus shared the significant contribution by Malaysia's E&E sector to global semiconductor supply. The Covid-19 disruption is impacting Malaysia E&E but players are adapting the challenge. The Malaysian Government could do more to support the E&E sector.

Questions from the attendees included "What advice to the Malaysian Govt?". The Malaysian should allow the E&E sector to open up more during this Covid-19 period. The Government could also provide more targeted incentives to the E&E automation equipment players for which Malaysia has a global capability. The Government should continue to fight for more investments into Malaysia.

Joseph Fitzgerald's presentation slides can be downloaded here.